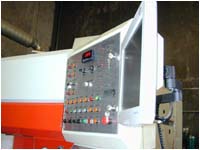 SLC2000 CNC System Details
Basic central computer unit is a sheet metal chassis approx. 360 x 350 150(height);
Can be wall or floor mounted (or on angle brackets, etc.).
Mfg. /assembled by SLC2000 CNC.
It contains:
Industrial power-supply 110watt. Universal input.
Outputs: +5v, + 12v, -12v
Auxiliary power supply:

(I) 15v rails for analog functions.
(II) +24v floating unregulated "field" supply for pushbuttons, relays, lamps, etc.

Cooling fan
Mains inlet.
Mains outlet (for VDU).
Floppy disk drive
Hard disk drive, or (recommended) Disk-on-Chip flash disk.
8-slot ISA-bus motherboard (passive). Other boards plug into this.
Processor board... single-board-computer with 586-133MHz CPU (typical), RAM, hard and floppy disk drivers, COMS ports (DB9 connectors on the back plane), keyboard interface, etc.
VGA card (or other as required to suit LCD monitor)
"3AXIS" card (design/mfg. by SLC2000 CNC)

One card caters for three axes via three DB 15 high-density back plane connectors. Each connector has provision to receive an encoder (3-channel, 5volt, line-driver) and to issue an analog command signal (16-bit, -10v to +10v) to a servo-drive unit. Usually extra DB9 connectors are attached (adjacent back plane slot), to separate the analog from the encoder signals for wiring convenience.
"SIOCARD" (mfg./design by SLC2000 CNC)
Watchdog safety-feature.
Analog resources (via DB25 back plane connector)

Four inputs (12 bit, 0 to 10 volts), typical usage for height-following system and assist-gas pressure monitor, etc.
Three outputs (16 bit, -10v to + 10v), typical usage for laser-power command and gas-pressure command, etc.

Digital I/O and data

These operate via high-speed serial interface (one milli-second iteration time)... connecting to OUTSTATION cards (see below) which can be remotely located. Total capacity of serial data:

96 digital inputs (sourcing) 96 digital outputs (sinking)
12 data items such as m.p.g. (hand wheel) and analog inputs suitable for fascia panel pots, etc.

All the serial data is opto-isolated from the computer system - powered by the 24v "field" supply.
"IODIST" card (mfg./design by SLC2000 CNC).

This passive card has DB15 connectors to distribute the serial I/O to OUTSTATION cards.

"PULSER" card (mfg./design by SLC2000 CNC)

This is optional card available for laser systems. Generates a pulse-train to be delivered to a laser unit (TTL, line-driver, 20mA interfaces all provided.) Allows the CNC to command pulsing (frequency and duty are user- programmable), including dynamic power control (power-ramping effect produced by varying the duty).
Frequency Range: 0 to 5000Hz (1Hz resolution).
Duty: 0 to 100%

"OUTSTATION" cards (mfg./design by SLC2000 CNC).

These connect to the SIOCARD via serial communication indicated above. The number of OUTSTATION cards in a system is variable, depending on requirements. Each card has capacity for four analog inputs (12 bit, 0 to 5 volt) and one m.p.g. input (open collector signals), and eight/sixteen/twenty- four (configurable) digital inputs and outputs.

Keyboard... (mfg./design by SLC2000 CNC)

IBM-AT compatible.
Intended for fascia-panel mounting.
Flat, sealed panel (polyester membrane overlaying short-travel highly tactile key switches).
Compact layout: 420 x 100 visible area.

SOFTWARE

MSDOS - licensed copy with each system. Executive software (by SLC2000 CNC) can be customized. Real-time motion control for up to six axes; user-program interpretation and execution; keyboard and screen interfacing (operator interface); simultaneous PLC execution; simultaneous user-program loading (via DNC or disk); simultaneous program editing via keyboard; "pre-check" graphics.
On laser systems the exec. software typically includes modules relating to height-following, laser-power control, gas-pressure control and monitoring, etc.
Configuration files (man-readable text) for machine-parameters, M-codes, G-codes, resident subprograms, etc.
Auxiliary program (by SLC2000 CNC) for PLC setup and documenting, using onscreen editing of ladder-logic diagram; compiles a run-time file in machine-code.