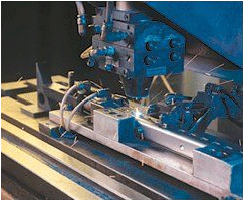 Scearce Laser has extensive experience in production laser cutting and welding. Our staff has developed welding, cutting, cladding, and heat-treating processes for major corporate leaders in Automotive, Aerospace, Furniture, Food Preparation, and Consumer Goods industries. We are prepared for prototype, pre-production development, low, and high volume manufacturing runs.
SLC has a range of equipment and expertise to meet the diverse needs of the manufacturing community. With over a dozen laser systems in house we can be certain that we will have the capacity to meet our customers' demands.
We have CNC and PLC controls available with a full range of motion and beam-delivery components in stock. We are prepared for rotary, linear, spot, and complex parametric path welding of numerous materials in all size envelopes.
Our facility is spacious with ample room for inventory segregation, inspection, and process development. Our building features two dock areas and sufficient materials handling equipment for large production volumes.